pseudo star's d-day


97-06-11 "D-Day"
- This was the beginning for us. We had played live before, but never in front of this many people. The show took place in our school's cafeteria. We played for about three or four classes. We were pumped, but received moderate reviews afterward. Oh, well, how hard can you rock at 10:00 am with all your teachers watching you?
Songs:
The Night is Young

Song #2 - Blur

My Generation - the Who

Say It Ain't So - Weezer

Give Peace a chance - John Lennon

Creep - Radiohead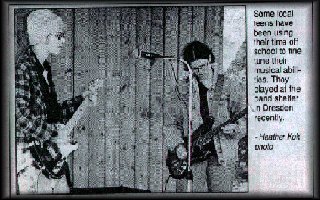 -The band from left to right Craig, and Charlie. Practice at the Dresden gazebo caught on film and then documented in the local newspaper the Leader. Photo by Heather Kok.