pseudo star's biography


"Pseudo Star" is a great fun band from Ontario, Canada. If you have never heard of Pseudo Star before, then that is your loss. I would advise you to find out more about this great band. If you are wondering what kind of music Pseudo Star plays then you will have to listen to them in person to get it. They don't have a label, its hard to say what style they play because it is all their own style. But if you wanted to get a feel as to what this bands music is like, then picture, Sloan, Smashing Pumpkins, The Beatles, Pink Floyd, and Hayden just went to one big party. They all got really drunk and puked in one large puke pile, and that, my friends, is what Pseudo Star is, the puke pile.

The Biography of Pseudo Star begins with Charlie Miller. Charlie in grade 9, begged and begged his parents to get him a guitar. They finally got him one on Christmas of that year, boy was he happy. He played it a bunch of times then gave up on it because it is hard to get started on guitar and he is just one of the laziest people that ever marched on our earth. Anyway then in grade 10, Dylan Workman got a guitar and for some freakish reason he got really good after a short time. Matt being friends with Charlie for a couple of years mentioned on being in a band. But they were to stupid to figure out that they should start a band together. After a couple of months Charlie got a bass, much easier for lazy Charlie to play, and he got it and a crap amp for only one hundred dollars. Then Matt and Charlie Started a band. They did not have a name because it was just the two of them. They did Brain Stew by Green Day and Good by Better the Ezra, and some other songs by Nirvana a such. Boy they sucked. Anyway they eventually played with Craig Robinson, and Kyle Chaple. They four of them started a band, Charlie on bass, Dlyan on guitar, Craig on guitar, Kyle on vocals and guitar. But they also sucked, because they had no drummer. Then Matt came up with the name "Pseudo Star"
Then they got rid of Kyle and it was just the three of them. Kyle was alright but who needs three guitarists? Craig was mainly the boss because he has been in bands all his life. They went through several drummers, Steve Bellan, Kenny Phelps, Garrett Eliot, then they finally got Jordan Tanner. They later on got rid of him and got back Steve Bellan who is going to marry Charlie's sister Brenna. He is older, 4 years older, but he is really cool. The reason why Pseudo Star didn't have him for all the time was because he was in college most of the time so he couldn't really do anything. But now he is full time drummer, and all is well.

click here for a pseudo star interview
click here for a pseudo star Interview from dresden leader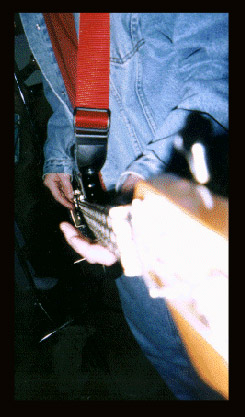 if you would like to check out pseudo star's gear click here

click on the name for info on each pseudo star